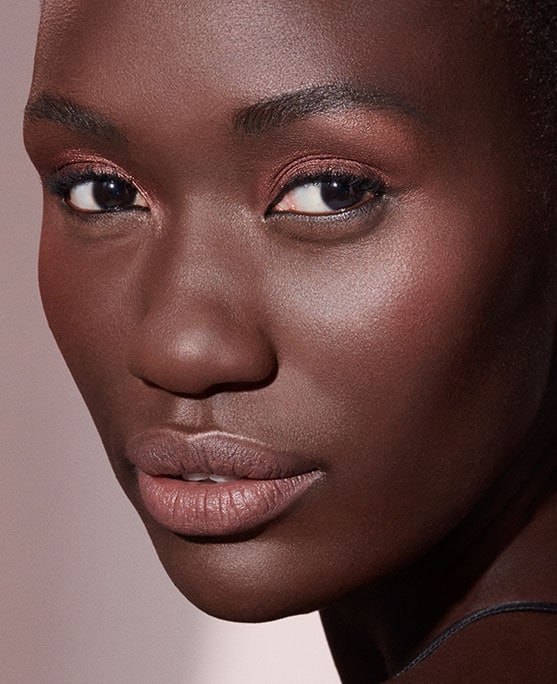 From her very first day at Estée Lauder, Violette has talked about her goal to help women celebrate their natural beauty and femininity. And with her latest collection, Oh Naturelle!, she's inviting us all, in her uniquely French way, to "get undressed" with our makeup. Featuring playful textures and a range of essential nude shades that flatter all skin tones, she's inspiring us to go bare in a whole new way.
Of course, the concept of nudes isn't new—it's one of the most popular and enduring trends in makeup. So we sat down with Violette to understand why her color mood was leaning toward nudes now, and what makes these products the nudes you need.
Why did you decide to create a nude collection?
While my previous collections have been inspired by one very specific vision, this collection was inspired by all women. For years I've had to mix and match different products and was still having trouble finding the perfect nude shades. There was either too much pink or yellow, or too much sparkle or not enough. So I wanted to create a collection that any woman can take and make her own, however she decides to create her look.
How would you use this collection?
What I love about this collection is the infinite options, whether it's a soft, everyday look, or a glowy nude base on which to add a pop of color or a touch of glitter. There is a lot of room for self-expression, and I wanted it to be easy for every woman to use. The skin is also a big focus, so the finishes and textures of the Face & Eye Palette enhance the skin so it looks healthy and dewy, making it the perfect base for any makeup look—simple or dramatic.
With all of the variations in "nude," how did you choose the colors and textures for Oh Naturelle!?
I always start with fabric samples when creating a collection and work to bring those textures and colors to life. But for this one, it was also a collaboration with so many women from Estée Lauder—women of all ages, backgrounds and ethnicities. It was so important to me that the shades and textures were versatile and complemented all skin tones, so we worked together, incorporating their ideas and feedback into the development. I feel like it was a true collaboration that wasn't just my vision, but the vision of so many women at Estée Lauder.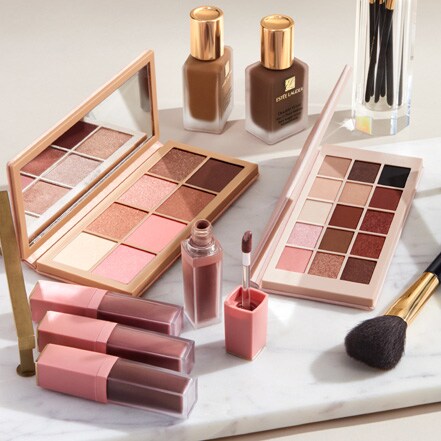 I want women to be inspired to 'get undressed' with their makeup and use the colors and textures of this collection to celebrate their beauty and femininity.
Nude eye palettes are everywhere these days—what makes this one different?
It is a complete nude palette for every skin tone. The shades and finishes were very deliberately chosen to be the absolute essentials, not just so that they look pretty when you open it, but to actually be versatile and usable. Work with the deeper brown and copper shades to create a subtle smoky effect, or apply the lighter nude shades for a softer look. You can go classic and muted or glowy and luminous—this palette has it all.
How do you use the Face & Eye Palette?
This was created for the woman on the go. As someone who travels a lot, I wanted something that would take the stress out of packing, so I created highlighter, blush and eyeshadow shades and textures that can be mixed and matched and worn during any season. I also wanted to include a different highlighter option for darker skin tones, so I incorporated a copper-based highlighter. I love using copper instead of gold; it reflects off of the skin so beautifully. It can also be worn as a gorgeous eyeshadow; copper looks beautiful on everyone!
With four nude liquid lip shades, what are your tips for helping women find their perfect nude?
As liquid matte lip color is so rich and opaque, I found that it was harder for women with medium or darker skin tones to find shades that really complemented their skin. There are two ways I'd recommend finding a shade: The first is to try them on in the daylight and take selfies to see which one you like best in a photo. Another way is to swatch them all on the inside of your arm to see them together and notice the differences. One might be best as an everyday shade, while one might be a little moodier or bolder.
But there's not just one perfect shade—I wanted each of the four shades to be wearable for anyone. The lighter shade pops on darker skin, while the darker shade creates a really seductive look on someone with fairer skin. You can also apply two shades together to give dimension to your lips: Use a darker shade as a base and blend a lighter shade in the center to make lips look fuller. Don't be afraid to mix and match, combine shades, or even try one you might not normally use.
What does Oh Naturelle! mean to you?
It's about being yourself and celebrating your natural beauty. I want women to be inspired to 'get undressed' with their makeup and use the colors and textures of this collection to celebrate their beauty and femininity.