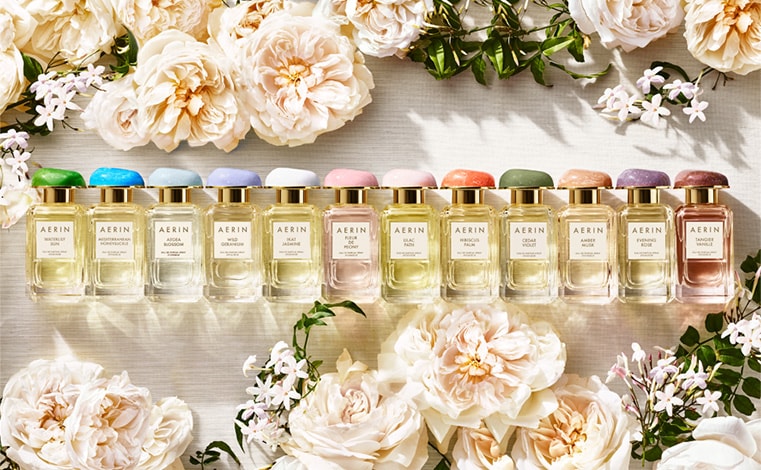 Our founder Mrs. Estée Lauder liked to say that a woman wouldn't wear the same dress to play tennis as she would to go to dinner, so why should she wear the same perfume? We love to think of AERIN fragrances the same as we think of our wardrobes—it's essential to switch each of them up for a new occasion. When fresh spring days become balmy beach afternoons, our warm-weather fragrances come out to play.
AERIN's fragrance collection has a selection for any summer occasion. Keep scrolling to Discover which one is right for you.

For Active Summer Mornings: AERIN Wild Geranium
Whether you're starting your day with a game of group tennis or a workout class with friends, crisp summer mornings call for a burst of flower power. Invigorating and uplifting Wild Geranium wakes you up with the vibrance of freshly cut flowers, notes of zesty Lemon and Pink Pepper.
For Warm Days At The Beach: AERIN Mediterranean Honeysuckle
Effervescent and refreshing, Mediterranean Honeysuckle's notes of Grapefruit and sun-warmed Bergamot evoke the essence of a sun-drenched afternoon by the water. Whether you're traveling abroad or basking in a poolside cabana, take our best-selling fragrance along to be transported to the sparkling waters of the Italian Riviera.

For An Afternoon Garden Party: AERIN Fleur de Peony
Like the perfect sundress, Fleur de Peony calls up bright-eyed optimism and the dewy romance of afternoons in a lushly blooming garden. Notes of luminous Mandarin and Pomelo mingle with succulent Lychee plus a chorus of white flowers to conjure bouquets of feathery pink peonies and the joy of light-hearted celebrations.

For An Evening Cocktail Hour: AERIN Amber Musk
On sultry summer evenings, golden Amber Musk brings an element of sensual floral romance to al fresco cocktail parties and sunset aperitivos. Notes of succulent Coconut Water and velvety Rose Centifolia create a sensation of radiance—the afterglow of a day's warmth burning into the evening.