FOR ALL AGES,
ALL SKINTONES, ALL SKINTYPES.
PATENTED UNTIL 2033.
Advanced Night Repair
7 Serums in 1
Line Reduction Firmness Even Tone Strengthening Hydration Radiance Anti-Oxidants
EXPLORE ESTÉE LAUDER REPAIR SERUM
What is a Face Serum or Skin Repair Serum and What Are the Benefits?
A face serum or repair serum is a product with highly concentrated ingredients and low viscosity for maximum absorption and impact. A serum is lighter than a moisturizer, which is designed to provide a layer of protection against the elements, in addition to hydrating skin. Serums quickly penetrate deep within skin's surface and contain specific targeted ingredients that help you meet your skincare goals. Experts recommend starting your skincare routine with a cleanser and toner and then layering your serum and moisturizer in that order.

Advanced Night Repair is our #1 serum. It's an oil-free formula containing Hyaluronic Acid. It helps reduce the look of key signs of aging, such as fine lines and wrinkles, dullness, dryness, uneven skintone and dehydration. Other benefits of serums can include:
• Skin brightening
• Free-radical fighting
• Acne fighting
• Soothing
• Skin texture refining

At Estée Lauder, we're the Serum Experts. We invented them. We perfected them. Find the one right for you. Need help choosing? Chat live with an Estée Expert.
What Are The Different Estée Lauder Serums?
There are many types of serums that are formulated to meet varying skincare goals. Often imitated, never duplicated, Advanced Night Repair Serum is our #1 serum. It's dermatologist- and ophthalmologist-tested to ensure it's suitable for all skin types and non-comedogenic so it won't clog pores. It repairs, renews, firms and significantly reduces the look of key signs of aging. Another bestselling serum is Perfectionist Pro Rapid Firm + Lift Treatment. This breakthrough, fast-penetrating formula helps strengthen your skin's vital support network, for an overall more youthful, lifted look. Multiple facial zones—along the jawline, cheeks and even stubborn laugh lines—feel firmer.

Prefer to focus on dark spots and uneven skintone? Try Perfectionist Pro Rapid Brightening Treatment and ignite your radiance. Reveal a more even-toned look. This ultra-lightweight, ultra-hydrating Vitamin C serum reveals the look of more even-toned, dewy, glowing skin.

An eye serum is another popular choice. Try Advanced Night Repair Eye Cream which helps protect the delicate eye area against multiple visible signs of eye aging. Dullness, dryness, eye lines and the look of dark circles are reduced with the help of ChronoluxCB™ Technology for more youthful-looking eyes.
What is a Good Face Skincare Routine for Aging Skin?
It's always important to have a good skincare routine, no matter your age.
• Cleanse skin with a gentle cleanser.
• Apply toner to balance the skin's pH and prepare it for the next skincare step.
• Use an anti-aging serum, such as Advanced Night Repair Serum, with hyaluronic acid.
• After serum, use an high-performance moisturizer like Revitalizing Supreme + Moisturizer Youth Power Creme featuring our exclusive Moringa Extract. It helps skin's natural power to amplify Collagen and Elastin.
• Apply an eye cream that helps you meet your goals, for example, reducing the appearance of lines and wrinkles or dark circles.
• To combat the appearance of specific issues such as redness or acne, follow up with a targeted treatment or mask.

For more detailed recommendations on skincare for anti-aging, try out Estée Lauder's custom skincare routine finder.
Meet our #1 Estée Lauder Advanced Night Repair Collection. For more radiant, beautiful skin, don't go a day without the best face serum, best eye cream and best anti-aging serum from Estée Lauder. Advanced Night Repair Face Serum works best when used with your existing skincare regimen. After cleansing, use a toner or treatment lotion. Follow with Estée Lauder Advanced Night Repair Serum to repair, renew, deeply hydrate and firm. It's a hyaluronic acid face serum that addresses every key sign of skin aging. For extra benefits, follow with a targeted face serum for your skin type and needs. Estée Lauder Advanced Night Repair Eye Cream is our #1 formula to brighten dark circles and fight the visible effects of blue light at night. When you feel your skin is acting up, try Advanced Night Repair Intense Reset Concentrate. It's an S.O.S. for skin that works fast. This powerful collection also includes radiance-boosting masks for face and eyes plus best-selling cleansers. Add one or all to your routine and wake up to beautiful skin.
Find Your Custom Skincare Routine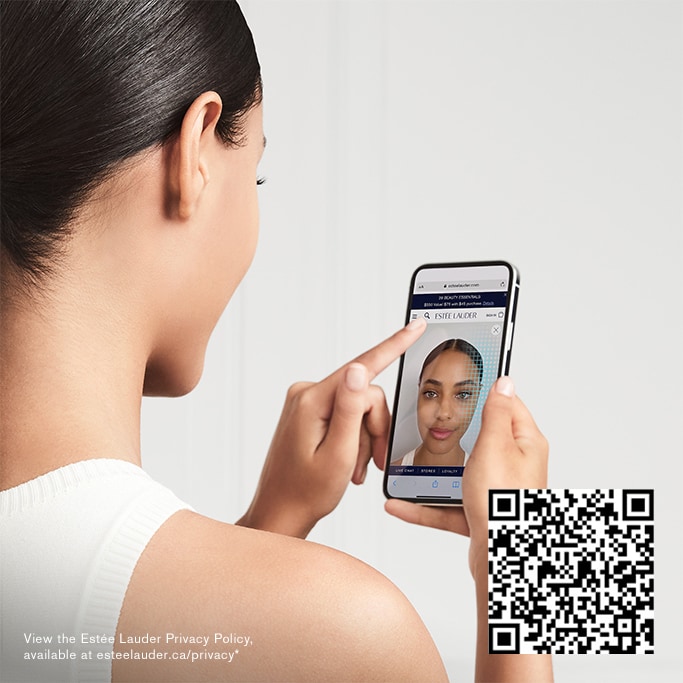 iMatch™ Virtual Skin Analysis
Find the skincare routine right for you with our iMatch™ Virtual Skin Analysis tool, exclusively on your mobile device. Take a selfie, and our advanced technology will analyze your skin to find the formulas that suit it best.
SCAN TO GET STARTED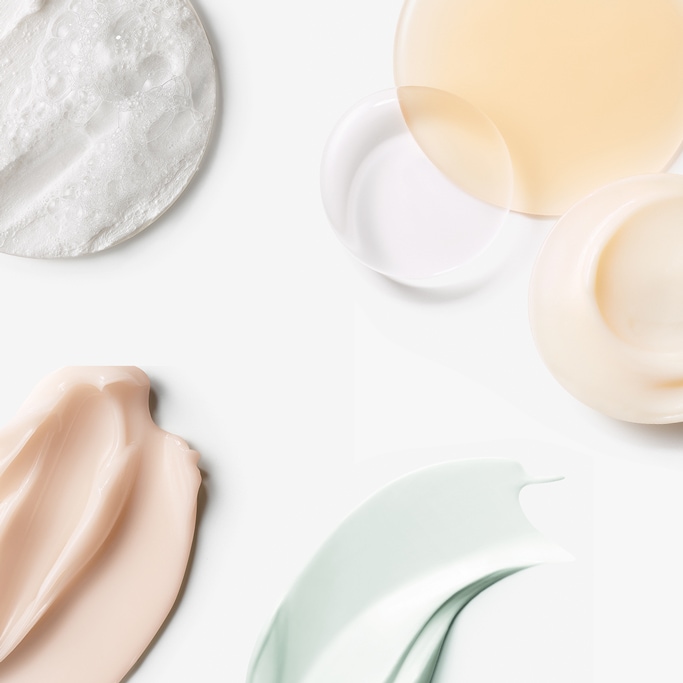 Prefer not to take a selfie? Then this is for you!
Answer a few questions, and we'll help you
find an expert routine targeted to your skin's needs.