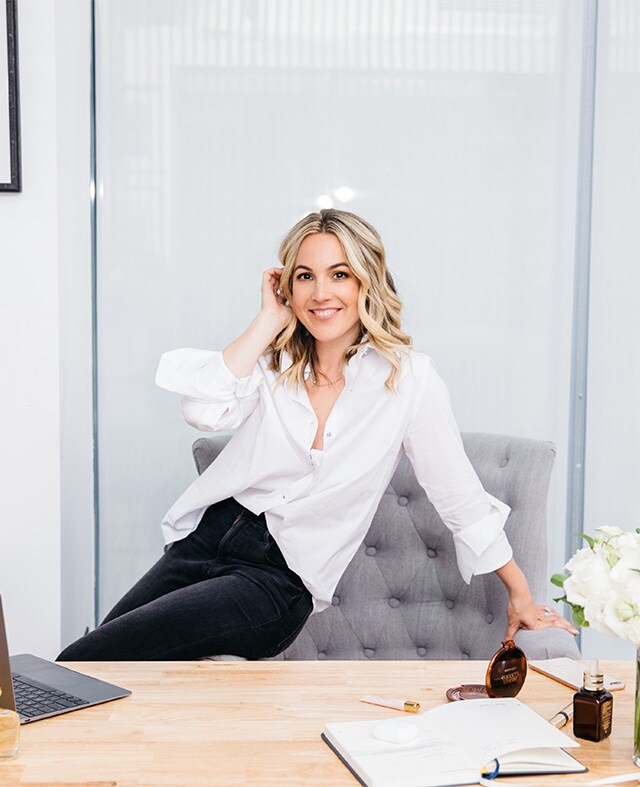 If you've ever planned a wedding (or have been even remotely adjacent to someone who has), you know it's quite an undertaking. It can feel like there are endless details to sort out, from the dress to the save-the-dates to the debate over band vs. DJ. Fortunately that's where wedding website Carats & Cake comes in—but the true genius behind the concept is that it serves both brides (or, you know, people who just love looking at weddings) and vendors alike. Anyone looking for inspiration can get it in spades, while industry professionals get access to both an eager audience and business tools that help them build stronger enterprises.
Since the launch of our latest fragrance Beautiful Belle, we've admittedly been wedding-obsessed ourselves, so we decided to reach out to the site's founder, Jess Levin Conroy, to learn more about what led to her unique venture. A true entrepreneur and creative thinker, we also picked up some killer advice that applies to any profession. Whether you're wedding-planning or just in search of your next big idea, read on to get inspired.
What inspired you to start Carats & Cake? What was your mission?
Starting my career in venture capital, I was surrounded by business owners and entrepreneurs. I saw how powerful an idea could be and how you could change an industry for the better. The wedding market was particularly interesting, because it's built on the back of small business owners and entrepreneurs.
How has your original mission evolved over time?
When we first started Carats & Cake, it was all about trusting our gut and building what we thought the industry needed. Now with over 27,000 businesses using the platform, we have the opportunity to learn directly from them and see what they need. We not only observe how they use Carats & Cake but we invest a great majority of our days to get to know them. Their needs inform what we build next.
What do you love most about your job? And what is the hardest part of your job?
I love that we are affecting change within our industry and making the wedding space stronger, one business at a time.
The biggest challenge is staying focused—for the overall company, our team and myself. There is a lot of opportunity and we have to know how to differentiate between what's a distraction and what will truly move the company forward.
Starting a company and raising money for a start-up is no easy task. Tell us how you went about it: What was the biggest lesson and what advice would you give to other women looking to start a business?
It's really important to understand your business model and know how you are going to make money, especially early on. Your ideas will evolve, but your focus should be on building a sustainable, profitable business. Companies waste too much time and too many resources trying to figure this out—two things startups don't have.
Every investment we have received to date began with a relationship. Many of our investors are friends and mentors who I went to for advice when I first thought about starting the company. One thing I have learned about raising money is that 'no' doesn't mean 'no' forever and you never know where a relationship could lead.
I love the first look, whether it's before the ceremony or when the bride/groom walks down the aisle. There is something so magical about seeing your person for the first time.
Can you describe your typical work day? Is there a typical day?
As the CEO of an early-stage company, my biggest responsibility is to keep the team focused on our priorities. We have an open office to create a collaborative culture and constant communication, which is essential because the priorities shift a lot. On any given day, I touch almost every aspect of our business, from sales and business development to design and editorial. I try to spend Mondays and Fridays in the office, and during the middle of the week I am typically running around to meetings. No two days are the same, which is probably one of the things I love most about what I do.
Reminiscing about your own wedding day, how would you characterize yourself as a bride? Did you want to keep things traditional, or write your own rules?
We did a bit of both. One of the best parts about getting married a few years after founding Carats & Cake was the opportunity to work with some of the entrepreneurs in this industry that I had gotten to know over the years and admired most. It added another layer of intimacy to our big day to get to really experience someone else's passion.
What is your favorite aspect of a wedding?
I love the first look, whether it's before the ceremony or when the bride/groom walks down the aisle. There's something so magical about seeing your person for the first time.
What are you the most proud of and why?
You are only as strong as the team you build. At the early stages of a business, every person moves the needle in a huge way and it can impact the team dynamic. Surrounding yourself with the right people who not only believe in your vision, but from whom you can learn, is crucial.
At the moment, I am most proud of our team and their independent drive. Each of us is truly committed to empowering this industry and helping the half a million local entrepreneurs who make up the space, and I feel lucky to get to work with such an incredible group of people every day.
What is the first thing you do when you wake up in the morning?
I grab my phone, check my calendar to see what my day looks like, and then quickly look at my emails to make sure I didn't miss anything urgent. If it's early enough I will go for a quick run before my family wakes up.
What is your daily beauty routine like?
I try to keep it simple. I wash my face each morning and night with a gentle cleanser and apply toner. In the morning I'll put on a bit of tinted moisturizer, mascara and a pop of bronzer or blush, depending on the season. Oh, and dry shampoo. I swear by dry shampoo.
What do you do when you have time to relax and unwind?
It's all about family time and can be as simple as taking a walk together in our neighborhood to grab coffee or dinner, or heading out of town for the weekend.
What is next on your bucket list?
We have some exciting things happening with Carats & Cake, and I am really looking forward to introducing the next phase of our business to the industry and our community.
Speaking of which, we can't help noticing that "Big Ideas" notebook. Is that where you chart all of your plans?
It was a gift from one of my best friends and mentors right around the time I started business school and wrote the business plan for Carats & Cake. It's become a place reserved for writing down big goals, from fundraising to user milestones. Most of [what's in there has] transpired, so it's become a bit of a good luck charm!