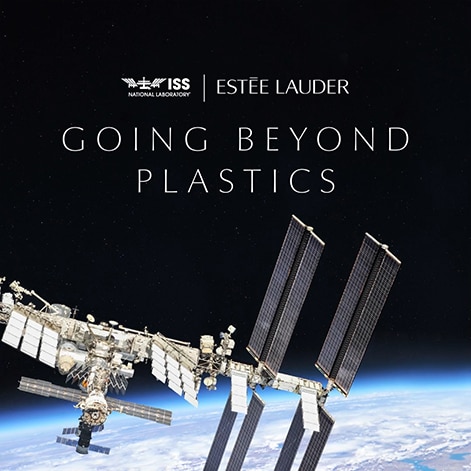 We have been working hard on our commitments to a more sustainable future—for both the beauty industry and the Earth. Last spring, we announced a new citizenship & sustainability mission statement and goals, including initiatives to reduce virgin and non-recyclable plastics across the business. As a global leader in the beauty industry, we have an important responsibility to search for more sustainable business practices, and now we're excited to share this research opportunity extends as far as space!
We are proud to announce our new role as the exclusive partner of the International Space Station (ISS) National Lab Sustainability Challenge: Beyond Plastics, which is funding research for future-thinking plastics alternatives. The Sustainability Challenge invites innovators and scientists to propose research projects that leverage the space-based orbiting lab to aid in the discovery and creation of environmentally responsible plastics or alternatives, all with the goal of enabling a more sustainable future here on Earth.
Just as we constantly strive to push the boundaries of scientific research and innovation in our products, we are thrilled to support an initiative that has the power to help transform not only our industry, but our planet. And we think that idea is out of this world. Be sure to watch this space for more updates on the Sustainability Challenge.