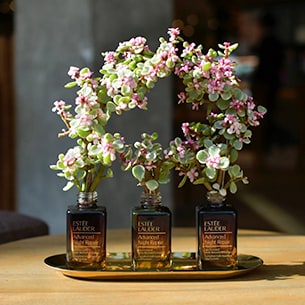 Beauty is everywhere—from the products we use to the environment we live in. As a global leader in the beauty industry,we understand the importance of protecting the future of beauty and the future of our planet.
Just as we've pushed the boundaries of innovation and scientific research for our products for generations, we've also committed to supporting initiatives that help protect and preserve the environment in which we live.
This Earth Day, discover more about our sustainability efforts, what we've achieved, and what we have planned for the future as we continue to push towards creating a better, more sustainable future for decades to come.
Packaging
Our commitment to building a more sustainable future in beauty begins at the core of our brand: our products. The Estée Lauder formulas you know and love don't just benefit your skin. We're committed to making 75-100% of our packaging meet at least one of the "5 Rs" by 2025: recyclable, refillable,  reusable, recycled or recoverable. And we've already begun — our skincare refills and makeup refills help reduce unnecessary waste.
Responsible Sourcing
Estée Lauder has exceedingly high standards about which ingredients we will and will not formulate with, and we work diligently to source them from a wide and diverse network of suppliers around the world, with attention to potential impacts on people and environment.
Ingredients
Ingredient transparency has never been more important—and we always strive to educate our community on what ones deserve a spot in your beauty routines. You can find all of our products' ingredients on the packaging.
But we took ingredient education a step further. Our ingredient glossary lists key high-performance ingredients and their skincare benefits—so you can know exactly what your products are doing for your skin.
Energy And Emissions
Our online shopping experience is paramount, which is why were proud to offset the carbon emissions from shipping for every Canadian order placed on esteelauder.ca*. Esteelauder.ca is also powered by renewable electricity.*
Citizenship
Our global impact goes beyond our sustainability efforts. We care about giving back to the world, and the people, around us. We strive to meet the needs of women of all ages, ethnicities, and backgrounds.
Estée Lauder is a company founded by one trailblazing woman, and supporting women is at the forefront of who we are. As a proud partner of KWK, a nonprofit organization founded by global spokesmodel and Brand Ambassador Karlie Kloss, we've provided internship opportunities and sponsored coding camps to help woman learn valuable skills and experience firsthand how coding works within the beauty industry.
*The Estee Lauder Companies Inc. is funding emission reduction projects to offset CO2e emissions as a result of deliveries made from our Estee Lauder CA fulfillment center to our consumers' delivery  addresses (excludes buy online and pickup in store, and same-day delivery).