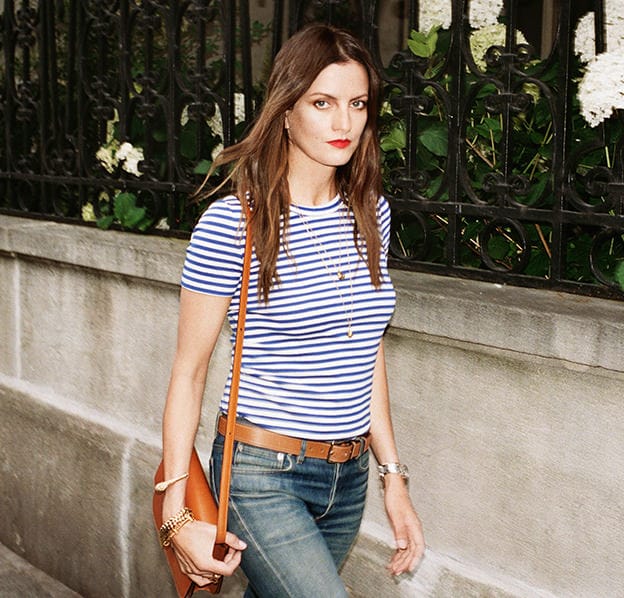 It's not often that we get entrée to a French fashion editor's apartment, much less a glimpse at her beauty routine. But when Claire Thomson-Jonville, editor-in-chief of Self Service Magazine—and all-around style inspiration—shared her love of Estée Lauder products (she counts Advanced Night Repair and the New Dimension Shape + Sculpt Face Kit among her favorites) and agreed to let us follow her around Paris for a day, we couldn't say non.
Thomson-Jonville is actually a transplant to Paris, originally from Scotland and, later, England, but has managed to embody the effortlessly chic, French cool-girl vibe as authentically as any native Parisian. "I moved to Paris for the creative culture," she explains. "Self Service was always a magazine I loved and respected...I feel very fortunate to have found my 'creative family' through the magazine. Being based in Paris is part of the closeness we have."
As for her own family, with a young baby at home, free time for this chic working mom is at a premium. "But I wouldn't have it any other way!" she exclaims. "I can do my makeup in 10 minutes—it is possible. I take time to do my skin and brows well." (She reveals she achieves this with the Double Wear Brow Lift Duo.) Here, check out all of the things Thomson-Jonville makes time for in her nonstop life. You're going to want to take notes and plan your own trip tout de suite.
Being surrounded by creative friends and collaborators in Paris gives me so much inspiration on a daily basis.
ASTIER DE VILLATTE
I love this store on the Rue de Tournon. It's so inspiring. Beautiful ceramic homeware; everything is white. The pieces are so collectible—there's something imperfect and unique about each piece. A great place to buy gifts. I can always find something here.
16 rue de Tournon, Paris, France; +33 1 42 03 43 90
LE BRISTOL
I enjoy the discretion and old-school charm of Le Bristol. It's right next to my apartment, so I often schedule meetings here.
112 rue du Faubourg Saint-Honoré, Paris, France; +33 1 53 43 43 00
DELPHINE COURTEILLE
I've been going to Delphine Courteille's studio in Paris for years. She knows me so well, I trust her with my cut and color. I love the courtyard space and taking a quiet tea and catching up on gossip.
34 rue du Mont Thabor, Paris, France; +33 1 47 03 35 35
L'ESPACE BIKRAM
I have been obsessed with yoga for about 10 years. I mainly practice Bikram yoga, which I find gives me a workout and has made my body stronger and leaner. I also like to meditate and follow other wider mixes of yoga practice with my private teacher, Gabrielle Richard. We recently went on a yoga retreat in Essaouira [in Morocco], and I'm now scheduling short retreats into my schedule each season. It keeps me focused knowing I have some 'me' time planned when things are really hectic.
5-7 rue Meissonier, Paris, France; +33 1 78 766 767
WILD & THE MOON
I love this organic vegan juice bar in the Marais. It has a more American, laid-back feel than other organic spots in Paris. I love the juices and often pick up lunch to eat at the office, since it's right next to the Self Service offices. I'll get the 'Better than Botox' juice and a soba or quinoa salad.
55 Rue Charlot, Paris, France; +33 09 51 80 22 33
MARCHÉ PRÉSIDENT WILSON
It's a farmer's market, and the selection is so great. I go every Saturday when I'm in Paris, always to buy organic local fruit and vegetables, cheese and fish. I take a raffia basket and my baby in her stroller. It's my favorite way to unwind on the weekend.
Avenue du Président Wilson, Paris, France; +33 1 45 11 71 11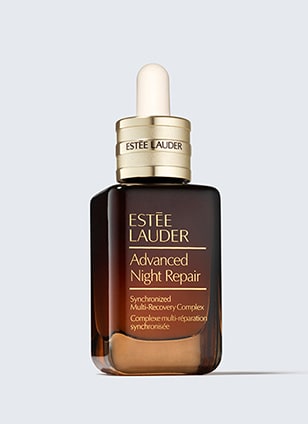 7 serums in 1: fight the look of multiple signs of aging.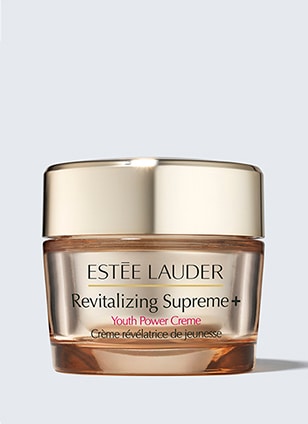 Rich multi-action creme: Firming, lifting, radiance.