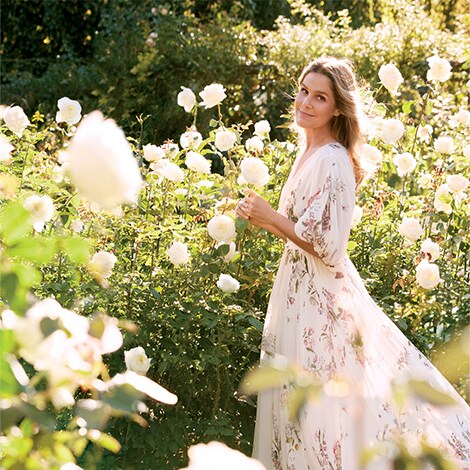 What was your inspiration for Joyful Bloom?
Rose is one of my favourite fragrances. I wanted to evolve the Rose Collection with something that felt modern and dreamy. To me, Joyful Bloom feels like going from one world to another, being transported from reality into a wonderful daydream escape.
As a native New Yorker, I often feel this way going from a bustling workday or a busy social calendar and escaping to a quiet room with a cup of tea or to my garden in the Hamptons. Joyful Bloom is that moment of total joy and delight.
The concept of 'blooming' makes me think of growth and beauty. The birth of a flower is all about starting fresh and the joy that comes with that. Joyful Bloom is a modern rose in full bloom—happy, vibrant and colorful.
Joyful Bloom is the latest fragrance in the Rose Premier Collection. Can you tell us more about why you have a collection dedicated to Rose?
Rose is part of my heritage. It was my grandmother's favourite flower and a scent that always makes me think of her. Roses are something that everyone connects to. They're comforting, beautiful and recognizable. My Rose Premier Collection felt like the perfect way to tell that story.
Rose de Grasse was your first fragrance in the Rose Collection. How is Joyful Bloom a progression in this collection?
Rose de Grasse is very much reminiscent of a rose fresh from the garden. It's a fusion of roses that leaves you with the impression of an abundant bouquet. Rose de Grasse Pour Filles came next and was really focused on capturing the essence of a youthful, dewy rose. It's perfect for a young woman's first perfume. Joyful Bloom is somewhere between Rose de Grasse and Rose de Grasse Pour Filles. It's still very pure, but gives the impression of a dreamy rose, a cloud of rose that's a little bit modern and more casual.
How do you incorporate roses into your own life?
For me, roses are an everyday flower, but also wonderful for special occasions. I have bunches of roses on my desk, my vanity, my bedside table and in the entryway of my house in New York. I also decorate almost any dinner party table with roses and change the color depending on the season. Deep reds in the fall, light pink and yellow in the spring, fuchsia in the summer. I also love decorating with flowers that feel akin to the rose, like peonies. Fresh peonies bring such joy to a room. I had them on every table at my wedding.
What was the process like creating Joyful Bloom with perfumer Honorine Blanc?
There's a partnership in creating something so magical. Making a fragrance is a little bit like having a child—it takes about a year, start to finish. We go back and forth smelling so many iterations and making modifications. Honorine does a great job at capturing emotion, sensuality and femininity.
With Joyful Bloom, we started with the reference point of Rose de Grasse, of course, but kept modifying so that it eventually came to feel super joyful and exuberant.
What kind of story does Joyful Bloom tell?
It's a story of total joy and happiness. It makes me think of the creativity I feel when I look to the inspiration of my heritage. By nature of its familiar reference point, the rose, Joyful Bloom can feel classic, but it's a very modern and singular interpretation. For me, it stirs up memories, but also makes me feel optimistic about the future.