In 1982, "skincare" was synonymous with cremes and cleansers—until Mrs. Estée Lauder broke the rules and introduced the first night serum to the industry. Today is that iconic serum's 40th birthday, so we're celebrating 4 decades of innovation with Advanced Night Repair, our groundbreaking repair serum that helps skin look smoother, firmer, more even toned and so much more.

Discover everything you need to know about what makes Advanced Night Repair so revolutionary, and how we continue to push the boundaries of science and research on our star serum today.
A New Form:
Estée was one of the first to recognize the powerful potential of a lightweight, silky serum texture: it could penetrate faster and deeper into the skin than your average creme, while delivering powerful, potent benefits.

Nighttime = Right Time:
Estée was also the first to realize something special happened at night—it's when skin's natural repair process peaks, making it the best time to replenish and renew.

A "Skin-Vestment" for the Future:
More than just treating your current skin, she created a nighttime serum that had the potential to repair the look of skin following the day's damage for better skin days ahead. It's your insurance for younger-looking skin—today and tomorrow.
Hyaluronic What?
Hyaluronic Acid may be ubiquitous in skincare today, but Estée was among the FIRST to tap into the power of nature's moisture magnet to keep skin hydrated.

7 Serums in 1
The Advanced Night Repair of today is still all these things—and so much more. But what makes this serum often imitated but never duplicated after all this time?

Advanced Night Repair has groundbreaking technology and is patented until 2033. There's no other serum like it in the world. 40 years of consistent innovation and enhancement has led us to a formula so powerful, it has the benefits of 7 serums in 1: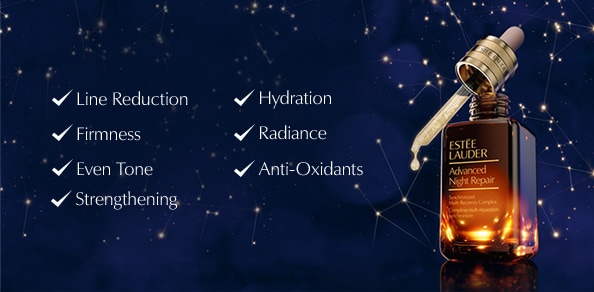 DISCOVER