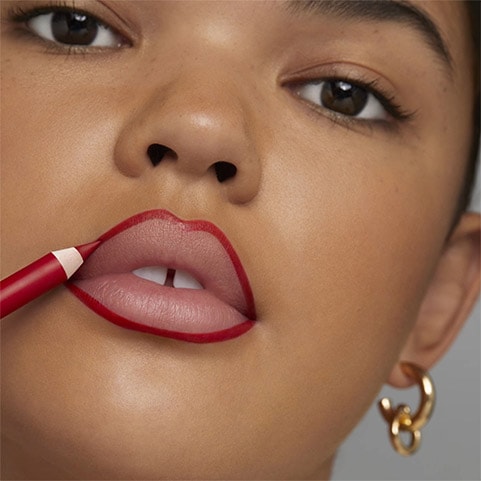 Contour is back—and we're not just talking about complexion products. While face contouring for chiseled, sculpted features will always have a place in our beauty routines, lip contouring is having a moment.
Wondering what lip contouring is, and how you can use the technique to achieve the look of plump, luscious lips? We're sharing everything you need to know about the trend, plus the lip products you need to make lip contouring a go-to part of your makeup routine.
What is lip contouring?
Lip contouring is defining and highlighting lips to a create fuller-looking appearance. The technique involves creating dimension and depth to enhance your natural lips the same as you would with traditional face contour. Only, you use lip makeup to achieve the final look.
What products do I need for lip contouring?
You'll need a lip liner that closely resembles the shade of your natural lips, a lipstick that compliments the lip liner, and a lipstick that's slightly lighter. You should also reach for lip care products to prep your pout before you contour and a lip gloss to complete your look with glass-like shine.
How To Contour Lips
Wondering how to contour lips to make them appear fuller? We're breaking down how to plump your pout step-by-step.
Step 1: Prep Your Lips
Just as you would prep your skin for foundation with primer, you should give your lips a bit of TLC before you begin your lip contour. This ensures that your lips are smooth, hydrated and ready for your lip makeup.
Start your lip contouring routine by applying our Pure Color Envy Lip Volumizer to your lips. This formula sculpts and moisturizes lips while providing a plumping effect.
Step 2: Choose Your Lipstick & Lip Liner
Next, it's time to choose your lipstick and lip liner combo. Like we mentioned earlier, you'll want a lip liner that matches or closely resembles the shade of your natural lips to create the most realistic final look. Our Double Wear 24H Stay-in-Place Lip Liner provides 24-hour, transfer-resistant wear with high-impact color that's smooth and effortless.
Once you've selected your lip liner, don't forget to grab two lipsticks—one that matches the lip liner and another that's slightly paler in tone. When it comes to lipstick finishes, you have some options:
For a classic matte lip, use Pure Color Matte Lipstick. This long-lasting lipstick saturates lips with 10 hours of statement-making color while resisting bleeding, feathering and creasing. If you prefer a softer finish, choose a shade of Pure Color Creme Lipstick. This formula provides the same 10-hour wear in a smooth, satin finish. If you like your lips with a bit of shimmer, you'll love our Pure Color Hi-Lustre Lipstick with dimensional, glistening shine.
Step 3: Apply Your Lip Liner
You've got your lip contour product lineup ready and now it's time to start the technique. Begin by applying your lip liner. Outline your top lip just over your natural lip line, starting at the cupid's bow and moving outwards towards the edge of your pout. Overline the center of your bottom lip and then line the outer edges.
Step 4: Fill In Your Lips With Lipstick
Apply your first lipstick shade (the one that matches the lip liner) to your lips within the lines you've created.
Step 4: Apply A Lighter Shade Of Lipstick To The Center Of Your Lips
This trick creates the look of fuller lips by adding dimension and creating depth with contrasting colors. Use your finger or a lip brush to gently dab a lighter lipstick shade to the center of your lips.
Step 5: Apply Bronzer Below Your Lower Lip For Added Dimension
Use a small brush and a powder bronzer like our Bronze Goddess Powder Bronzer to give the lips extra contour. Sweep a small amount of bronzer underneath the center of your lower lip and gently blend out.
Step 6: Top It Off With Gloss
Light reflection can enhance the appearance of fuller lips. That's why you should complete your lip contouring routine by applying a clear lip gloss across your lips.
Now that you've completed your lip contouring routine, you should have gorgeous, plumped lips that you can show off for the day.