The Red Lip
The ultimate symbol of confidence and power, a bold red lip
is a timeless beauty staple.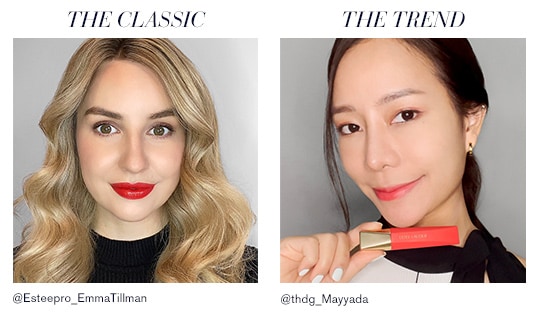 The Classic:  Full Red Lip 
Apply  Pure Color Illuminating Shine Lipstick in shade #914 Unpredictable,
first to the bottom lip then the top. For extra precision,
apply another layer using a lip brush to perfect the corners and edges.
The  Trend:  Wine-Stained  Lips  
Take  an ethereal twist on the classic  with  an  easy-to-apply  wine-stained lip  look. 
Conceal around the lip line, then swipe on  Pure Color Whipped Matte Lip Color in  shade
#932 Love Fever, blotting and blurring with fingertips, focusing on the center.  


The Contour
This  famous  technique  is  a  makeup  artist favorite  to  enhance
and define the natural bone  structure.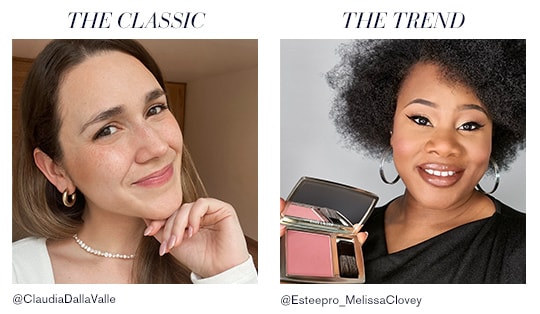 The Classic:  Bronzer Contour 
Use a fluffy powder brush to apply  Bronze Goddess Powder Bronzer  in a "3" motion along
the side of the face—from forehead,  up the  hollows of cheeks to underneath the chin.  
 
The Trend:  Blush Contour 
Use your blush as your cheek contour by applying it along the apples
and hollows of the cheeks to the hairline.  


The Smoky Eye
What makes this sultry technique so popular is its versatility.
It's perfect for any occasion, eye shape and eye color.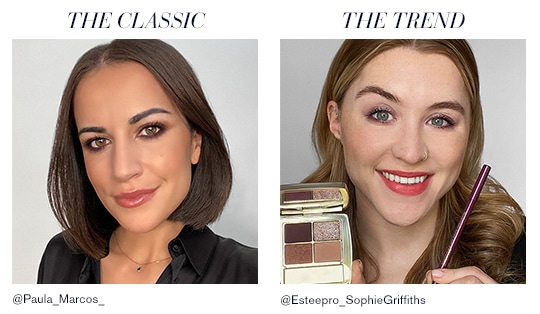 The Classic:  Signature Neutrals  
Smudge  Double Wear 24H Waterproof Eye Pencil in shade #01 Onyx  along  lower
and  upper  lashlines, extending the smudge up toward the crease. Apply  Pure Color Envy
 Luxe  Eyeshadow  Quad in #04 Desert Dunes  over smudged liner  for a neutral brown smoky,
or  #05 Grey Haze for a classic gunmetal look.  
The Trend:  Monochromatic Color 
Change up the same technique with a bold tone-on-tone color combination—like
#03 Aubergine  Dream  Eye Quad  paired with  the Eye Pencil in shade #09 Aubergine, 
or  #02 Indigo Night Eye Quad  paired with  Eye Pencil in shade #06 Sapphire Sky.  


DISCOVER